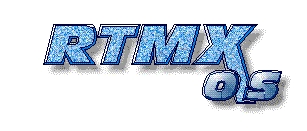 (c) RTMX Incorporated 1991..2011 (A Virtual Worldwide Company)
RTMX O/S is a product extension to OpenBSD Unix-like operating system with emphasis on embedded, dedicated applications.

The RTMX O/S product consists of:

IEEE POSIX standardized systems calls (as extensions to OpenBSD)
IEEE POSIX real time extensions for messaging, signals, named and un-named semphores, shared memory, real time / memory mapped files, message queues and fixed priority tasking.
Vendor-specific ports (of OpenBSD + RTMX) for embedded, dedicated systems and applications-specific Internet / Intranet services.
Coming soon: Live-CD installer - all in one Server with multi-processing, Apache 1.x and 2.x, PHP5, MySQL .. and more
for Intel platforms. Easy installer with very generous default values for a robust Internet or Enterprise environment.
- Our new system provides an out-of-the-box super eMail server (MTA) with POP3 & IMAP including TLS/SSL
- Full Apache Web Server with PHP5 and MySQL plus many very popular applications
Also soon: Full firewall/router with Intrusion Detections System (IDS) / Intrusion Protection System (IPS)
- Includes Web-based Admin, firewall statistics and performance graphing
- Website filter
- Builtin Transparent SPAM filter, full IP/NAT DHCP for Local Workstations
- Localized DNS Acceleration
- Web page accelerator
- FTP Proxy for client behind the firewall
- Can be configure as a Transparent Bridge protection appliance.


---

We previously developed, or Site-licensed RTMX-extended versions of OpenBSD for:

Circuit City Stores, Inc., custom (legacy) Motorola M68030 Point of Sale / Store system
Lockheed-Martin Energy Systems, FORCE CPU-40 and V•I Power•4e SBC's
for Site Security / monitoring
MacDonnell-Douglas / Boeing Aircraft, MIPS-4400 VMEbus MIL SPEC, ruggedized SBC for Flight 'way points' calculation
US Navy, Training & Simulations, V•I Power•4e SBC
INET, MIPS-4xxx series embedded / dedicated CPU (for the GeoProbe Network / Telecom QoS Assurance system)
SBS/V•I (Power•4e, PowerPC 604e VMEbus Single board computer)
SBS/V•I (K2, PowerPC 750 cPCI Single board computer)
SBS/V•I (Palomar-II, PowerPC 750 PMC Processor Module)
...many other embedded, decicated projects for Data Acquisition, specialty interfaces, instruments, etc.
---
Links to other significant sites:
OpenBSD Home Page
Consider supporingt the OpenBSD Project
.....purchase an OpenBSD CDROM Set Today!
OpenBSD is a Copyright of OpenBSD (Theo de Raadt)
The 6809-UniFLEX Archive
A collection of 1980's UniFLEX 6809 modules, tools, etc.
PMON 2000
Open source, full featured Debugger / BootROM environment.